Welcome!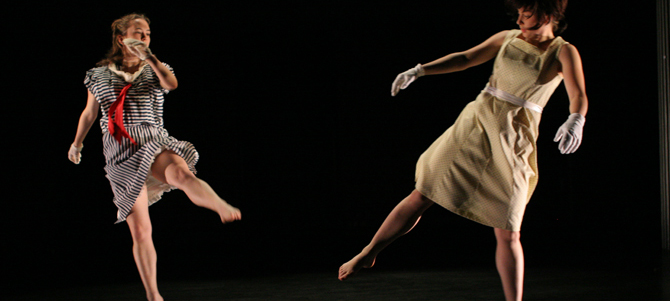 white road Dance Media performing High Tide.
white road Dance Media is an NYC-based dance company founded by Marisa Gruneberg in 2003. The company is represented by Pentacle/Danceworks as a Gallery Artist and as non-profit fiscally sponsored project through Fractured Atlas. wrDM is committed to creating and performing contemporary dance work that is intellectual, accessible, and artistically refined. Movement is everything, exploration is a must, new territory demands our attention.
Upcoming
Feb 13, 14 & 15, 2014 Triskelion Arts Presents white road Dance Media in the premiere of their new work, Hoarse. Tickets online now!


Promises. Romance. Support. Betrayal. Abuse. Loyalty. And a disembodied talking horse head. Triskelion Arts is very proud to present Hoarse, a new full-length dance work from Marisa Gruneberg and white road Dance Media. A trio of women inhabits this darkly deconstructed rendering of The Goose Girl, in which a beheaded horse sagely records and reports a warped tale of love, grace and guts. Hoarse seeks to answer: what matters, and what does not, when we are stripped of our pre existing truths and forced into a construct we cannot control? In an environment where any sense of true self is wearing itself hoarse, what can we build that will last? Live soundscape by Chad Raines. Performed by Sammy Donahue, Miranda Lyon and Sydnie Liggett. Costumes by Joseph Blaha, lighting by Andrew Dickerson.
April 2 & 3, 2014 Pentacle Gallery showcase at Dixon Place

November 2015 Untitled site-specific project at Windsor Ruins in Claiborne County, Mississippi. Generous permissions provided by the Mississippi Department of Archives & History.


Company & Collaborators
Marisa Gruneberg, Director
Marisa is a choreographer and filmmaker creating work in New York City. Her passion is building new worlds with moving images.
Sammy Donahue, Performer
Sammy Donahue, originally from Louisville, Kentucky, moved to Brooklyn in August of 2011 after receiving her BFA from Ohio University in Dance Performance and Choreography with honors. During her time at OU and her first year in NYC, Sammy was lucky to work with many inspiring choreographers including Stefanie Batten-Bland, Donna Cicchesi, Adriana Durant, Teresa Fellion, Travis Gatling, Mickie Geller, and Marina Walchli. In addition to wrDM Sammy currently dances with Etch Dance Co. and Megan Bascom & Dancers. In March 2012 she completed her 200 hour teacher training at Sonic Yoga, and now teaches vinyasa and hatha classes at Life in Motion Yoga. Sammy is extremely excited for her second season with white road!
Andy Dickerson, Resident Lighting Designer
Andy's lights are awesome. Just watch. Visit Andrew Dickerson Lighting to read more!
Sydnie Liggett, Performer
Sydnie Liggett, originally from Northern Virginia, is a magna cum laude graduate of The Ohio State University with a BFA in dance. Sydnie has been fortunate to work with artists such as Doug Varone, Larry Keigwin, Nicole Wolcott, Shani Collins, Abigail Yager (of Trisha Brown Dance Company), and Bebe Miller. Currently, she works at the Mark Morris Dance Group as the School Administrator and performs with Jamal Jackson Dance Company and Kendra Portier's Band|Portier. Sydnie is delighted to be dancing with white road Dance Media and such inspirational movers.
Miranda Lyon, Performer
Miranda Lyon grew up in Erie, PA, as the product of musical parents. She attended SUNY Purchase Conservatory of Dance and received her BFA in 2004. Here in New York, she has danced with NOA Dance/Nelly van Bommel, Jessica Morgan, Sidra Bell Dance NY, Charlotte Gibbons, Keila Cordova, and others. Miranda is currently pursuing her Master's in Physical Therapy at Columbia. She is happy to be dancing in her tenth season with white road.
Emily Maurer, Performer
Emily Maurer is a dancer and Pilates instructor who resides in Brooklyn, NY. She holds a B.F.A. in Dance from the University of Southern Mississippi. In 2009, Emily and fellow dancer, Julie Turner formed Make/Pause, a collaborative choreographic project which has performed at WAXworks, 60x60, and Collaborations in Dance. Emily is also the Williamsburg Community Lead for the BEAT Festival 2012, a new performing arts festival featuring Brooklyn-based artists. She is very happy to be in her fifth season with white road Dance Media.
Liz Riga, Performer
Liz Riga, from Detroit, Michigan, received a BFA in dance performance/choreography from the University of Michigan Ann Arbor. Liz ventured to NYC in 2001 where she attended New York University's Tisch School of the Arts and received her MFA degree. After graduating from NYU, she worked extensively with Keigwin & Company, creating, performing, touring and teaching as an original member of the company until 2011. She is grateful and excited to be performing and creating with white road Dance Media.
Justin Sherburn, Composer
Justin Sherburn is a musician, composer, and musical director based in Austin, Texas. He has produced scores for award winning theater, dance, film, and television. Justin currently records and tours with the rock group Okkervil River and Glovertango, a traditional Argentine tango orchestra. If you enjoyed the soundtrack for North Country, you can download it for free at Montopolismusic.
Past Company Members
Over the past ten years, Marisa and white road Dance Media have had the honor of working with some truly amazing performers and creative minds.
Many thanks and much love to Alli Alemi, Laura Arrington, Megan Bascom, Julian Barnett, Gabriella Barnstone, Abby Bender, Julie Bordonaro, Brynne Billingsley, Tara Lee Burns, Jonathan Ciccarelli, Leah Curry, Marlena Duncan, Jessica S. Finn, Allison Harmer, Jen Kosky, Glen Meynardie, Hanna Olvera, Patrik Phalen, Kendra Portier, Dana Reed, Shana Simmons, Ashley Singletary, Jenny Stulberg, Julie Turner, Sara K. Visser, and Sarah Zitnay.
Current Projects
Night Thing
new full length version coming 2014!

Collected Ghosts
in development for 2014
A full-length dance film project with the mission to collect a series of connected solos performed by the many dancing bodies who have inspired, challenged and amazed this director over the last thirteen years of creating movement and dance works. Featuring past and present wrDM performers & friends.

A
in development for 2014
A short form dance film adaptation of Nathaniel Hawthorne's The Scarlet Letter.

Hoarse
February 2014
New live dance project based on Tale #89.

New York Loves You
begins shooting June 2014
Original web-based short film series.


Past Performances & Events
2013

Evergreen
April 4, 5 & 6 - Triskelion Arts, Brooklyn NY

North Country (excerpt)
February 8 & 9 - CoolNY 10th Anniversary Festival, Brooklyn NY


2012

Evergreen preview
November 7 - Open Performance with Movement Research, New York NY

Guest Artist Residency
April 25-28 - Silo Kirkland Farm, Springtown PA

Mick Jagger Sings Barbra Streisand's Hits!
April 12 - Triskelion Arts, Brooklyn NY

Night Thing
March 22-24 - Triskelion Arts, Brooklyn NY


2011
North Country
October 27-30 - Boyd Vance Theatre, Austin TX

Deer, To Me
October 20-23 - Boyd Vance Theatre, Austin TX

Deer, To Me (excerpt)
September 17 & 18 - Hudson River Summer Series, New York NY

North Country (excerpt)
August 19 - Hoover Dam Collective, Brooklyn NY

Mick Jagger Sings Judy Garland's Hits!
April 15-17 - Triskelion Arts, Brooklyn NY

North Country
April 1-3 - Triskelion Arts, Brooklyn NY


2010
Deer, To Me
March 18-21 - Triskelion Arts, Brooklyn NY
2009
I Want My 90s!!!
March 19-22 - Triskelion Arts, Brooklyn NY
2008
Anna
March 28-30 - Triskelion Arts, Brooklyn NY

Anna (excerpt)
June - BOS Festival, Martha's Vineyard, MA

Anna (excerpt)
August - WPA Free Fest, Brooklyn NY
2007
You're Coming With Me Young Lady
February 7-9 - Joyce SoHo, NYC

Late May Be Dark
June - BOS Festival, Martha's Vineyard, MA

Anna (excerpt)
August - WPA Free Fest, Brooklyn NY
2006
Character Assassination
March 30, 31 - Apr 1 - Triskelion Arts, Brooklyn NY

High Tide
June - DNA, RAW Material, NYC

High Tide (excerpt)
August - WPA Free Fest, Brooklyn NY
2005
Exile from the Party
February - Mulberry St Theatre, NYC

Peach Dream
May - Hoi Polloi Studios, Boston MA

You'll Need Arms For That
June - BOS Festival, Martha's VY MA
2004
White Room
February - WAX, WAXworks, Brooklyn NY

We'll Wear White After Tonight
September - WAX, Brooklyn NY
2003
White Room
December - Works in Progress at Dancespace, NYC


Media

Go to the wrDM Flickr »





See more videos at the wrDM youtube channel»


See more videos at the wrDM youtube channel»


Classes and Workshops
Marisa is currently part of the Dancepants! collective, a group of contemporary dance artists teaching a superfun, open level modern class at Triskelion Arts. Class is from 1-3pm every Thursday. See the class schedule on Triskelion's website.

wrDM can offer many exciting classes and workshops in conjunction with or separate from a residency program. All the classes listed below can be tailored to suit student ages and levels from beginner to advanced; the range and amount of material covered will be dependent on workshop or class duration.
Making Dances (taught by Marisa)
Students will learn fresh new approaches in an encouraging environment on how to create movement for and structure a solo work. Conceptually driven and musical methods will be explored in detail as students work to express themselves within new ideas.
Modern Technique (taught by Marisa and Megan with the company)
Utilizing wrDM phrasework and movement vocabulary, students will be led through an energetic, musical and dynamic modern technique class. A thorough yoga based warm-up will be followed by basic weight shifting, upside-down work, and easy across the floor partnering before culminating in a large repertory-based movement phrase.
Ballet Technique (taught by Megan [Beg, Int] or Miranda [Adv])
Traditional ballet for the modern dancer.
Partnering (taught by Marisa with the company)
Gone are the days of just boys lifting girls, and this class will help students shed those traditional views. Using repertory duet material, students will work in pairs exploring the super exciting world of sharing weight, making time and generally dancing with another. Emphasis will be placed on keeping your partner safe and learning when and how to take risks. Class will culminate in a mini-performance of the material.
Pilates (taught by Megan, Julie, and Emily)
New York-style pilates from certified instructors.
Yoga (taught by Marisa)
Vinyasa flow style yoga from a certified instructor. Emphasis placed on healthy alignment, breathwork, and listening to the body.
Ballroom Dance (taught by Julie)
Basics of the ballroom dance big six: waltz, tango, foxtrot, chacha, rhumba, swing. Taught by a certified instructor, come with or without a partner.
Dancing in New York City (taught by the company)
Geared for college students who want to dance professionally in NYC. Topics like auditions, living in Brooklyn, where to take class, obtaining certifications, and survival will be covered with time for Q&A.
Repertory and Residencies
wrDM offers residency programs for colleges and universities, Lec-Dems for colleges and communities, and performances for all audiences.

Residencies, designed for college and university settings, can be as short as a few days or as long as a few months. While the company is in residency, Marisa will create a new work for or set an existing repertory work on selected dancers. The company will also teach classes during their stay. Please see Classes and Workshops for a list of offerings and detailed descriptions.

Lecture Demonstrations, which give an inside perspective from both Marisa and the dancers, are suitable for any audience, college and otherwise. Communities that want to learn more about how dance works, but do not necessarily want to take a dance class, will find this format particularly engaging. Audiences will have ample time for questions and will feel encouraged to ask them. Lec-dems are most successful when presented in conjunction with a performance.

wrDM can perform selected works from their repertory in a high or low tech environment: formally, on a stage with lights and sound, or informally, in a studio, gymnasium, or any community space. Outdoor shows are also possible. wrDM prides itself on being able to perform in any space and we encourage you to contact us.


Press, Honors and Awards
Press
Byron Woods for Independent Weekly, Durham, NC July 2003
Feature in Block Magazine, Brooklyn, NY June 2006
Preview in About Town, The New Yorker, February 2007
Claudia LaRocco for NY Times, February 2007
KOOP Radio Off Stage and On the Air Interview with Lisa Scheps, October 2011
Jonelle Seitz for the Austin Chronicle, October 2011
James Rainey for The Dance Enthusiast, October 2011
Dance Enthusiast Asks Feature, Comedy in Dance Festival, April 2012
The Dance Enthusiast, February 2013

Honors/Awards (Awarded to Marisa for her work with wrDM)
Recipient, Harkness Space Grant at the 92 St Y, 2004-5
Selected for DNAs curated RAW Materials performance series, 2006
Recipient, Space Grant, Triskelion Arts 2006
Nominee, Joyce SoHo Artist in Residence, 2006 and 2007
Selected as a performing company in the WPA Free Fest, 2006, 2007, and 2008
Finalist, Sugar Salon, 2007
Recipient, Harkness Space Grant, Joyce SoHo, 2007
Resident Artist, Carver Center for the Performing Arts, 2011
Recipient, Mellon Foundation Space Subsidy at Triskelion Arts, 2012-13


Contact
wrDM is available for performances, college and university residencies, classes and workshops, and community outreach, either as a full company or as a condensed group. We can work within any budget and encourage you to contact us!

Email hello@whiteroaddancemedia.com for general inquiries.

white road Dance Media Advisory Board
Gabriella Barnstone, Julie Bordonaro, Abby Bender, Brooke Broussard, Tyler Crockett, Kelly Hasandras, Carl Hillman, Reggie Hillman, Kendra Portier and Julie Turner

Special thanks to our kickstarter.com donors: Anonymous, Gabriella Barnstone, Megan & Jason Bascom, Carly Berrett, Craig Berrett, Abby Bender, Erin Bomboy, Julie Bordonaro, Linda Chanler, Michael Churchill, Nick Colvin, Zac Crofford, Eileen DePalma, Marilyn Dixon, Max Forrester, Kurt Gruneberg, Charles Gushue, Lynda Haile, Lucinda Hokanson, Carl & Reggie Hillman, Eric Johnson, Bob & Rebecca Jones, Monique LaVie, Victor Leung, Elizabeth Lyon, Sue Marcum, Mitchell Marcum, Travis Marcum, Karen & Tim Maurer, Travis Marcum, Jeremy Osborne, Thomas Palmatier, Jill Ragsdale, Kathryn Rogers, Lucia Rutter, Aaron Seigler, Megan Sinwell, Pat Whitcher, Rachel Weise, and Nathan Woody.

our youtube channel!
our myspace!
follow



Want a kick-ass Dance Your Tail Off bloody mermaid totebag like this? Get yours now!Designed for wrDM by the lovely Alyssa Panetta.
web design by Jez at Evening Tweed
Copyright © 2013 white road Dance Media